The Whittier Historical Society owns and operates the Whittier Museum and provides tours of the Historic Bailey House. Our mission is to collect, preserve, and display materials of historical significance to the greater Whittier area. We also produce programs and special exhibits of interest to the Whittier community. The Whittier Museum and Bailey House are open to the public with free admission. We hope you will visit soon!
Fashion to a Tea
Our thanks to all who attended Fashion to a Tea on April 1, and to the following:
Sponsors: Ginny Ball, Victoria & Harry Jacobs, Dr. Carmella S. Franco, Dr. Lorayne Horka
Sponsors providing food: Sprouts, The Deli Up, Mimo's Cafe, Double Tree Hotel, Stephanie Butler, Audrey Gee, Lisa Abbate, Tracy & Dave Wittman
Silent Auction Donations: Floretta Sheppard, Sandy Teel, The 6740, Let's Face it Spa, Pub and Grill, Ravello Bar & Grill, Le Beauty Bar, Francine Rippy, Lisa Abbate, The Skin Room, The Rusty Monk, Lift Coffee Roasters, Patty Tillman, Sheryl Crockey
Advertisers: Best Nest Realty, California Grill, Friendly Hills Bank, White Emerson Mortuary, Bailey House, Iris Harris, Oasis Jewelry, Combined Worksite Solutions, Double Tree Hotel
Museum Decorating: Little Shed, Lori Oseguera, Roxy White Ornelas
Event Volunteers: Lori Oseguera, Judi Henderson, Raoul Pascual, Stephanie Butler, Roxy White Ornelas, Lydia Espinoza, Tracy & Dave Wittman, National Charity League (Whittier Chapter), Aileen Lim, Museum Staff, Board, Volunteers and Interns (with special thanks to Nancy Davis, Sam Dominguez, Gabriel Ramirez and Naomi Franco)
Special Thanks to: Ruth B. Shannon for her comments on the 1969 Inauguration and the dress she wore.
Founders Day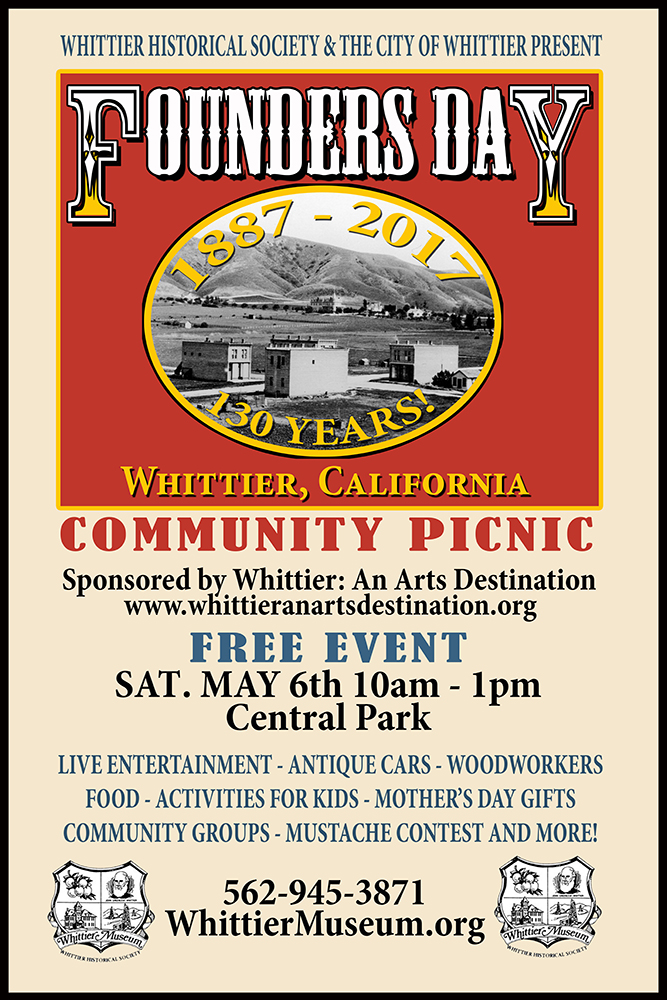 Quake City
Can you believe it's been almost 30 years since the earthquake? The Museum is preparing an exhibit and we would like your memories! Click here for more information.
---
Student Art Exhibit
Students from Whittier City School District feature art inspired by Whittier history, "Whittier Through the Eyes of a Child", at the Museum from March 21 until May 31. Click here for a list of the winners.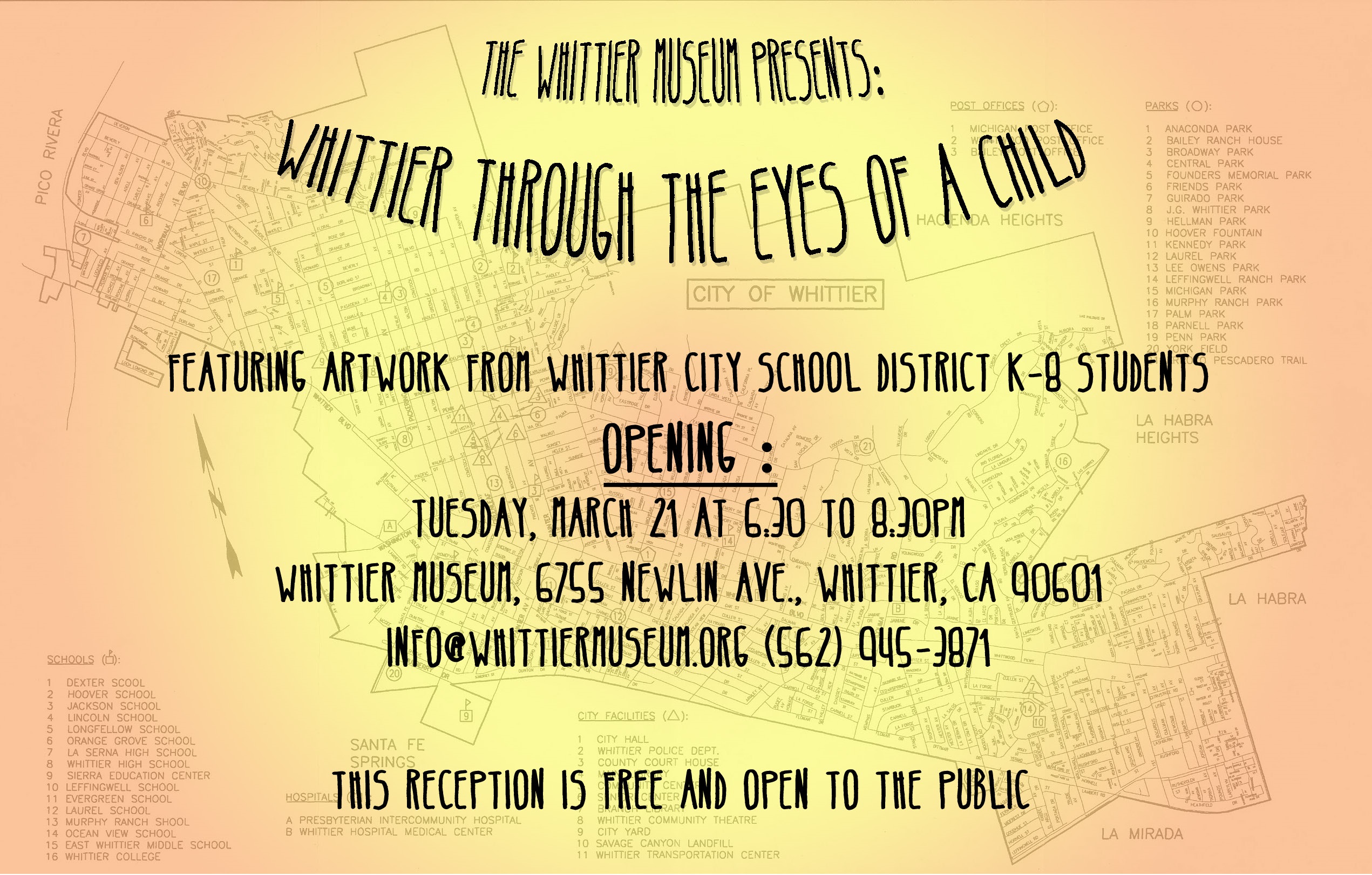 Grants
City of Whittier
BCM Foundation
Don Knabe, LA County Supervisor 4th District
Employees Community Fund of Boeing California
National Charity League, Whittier Chapter
Ceres Foundation
Toyota of Whittier
Southern California Edison
Individuals & Families
Robert and Virginia (Ginny) Ball
Rev. Tom and Virginia Boles
Sylvia Foltz
Bob and Judi Henderson
Ralph and Jeanne Muhlestein
Dr. Robert and Susan Settlage
Ruth B. Shannon
Ralph Thomsen
Family of Monte Wicker

Become a Member of the Whittier Historical Society!
Receive the Museum Gazette Monthly
10% Discount in Gift Shop
Discounts on Events
Access to Museum Library & Archives
Volunteer Opportunities
Site Use Discount
Help Keep the Museum Free
Join Now!