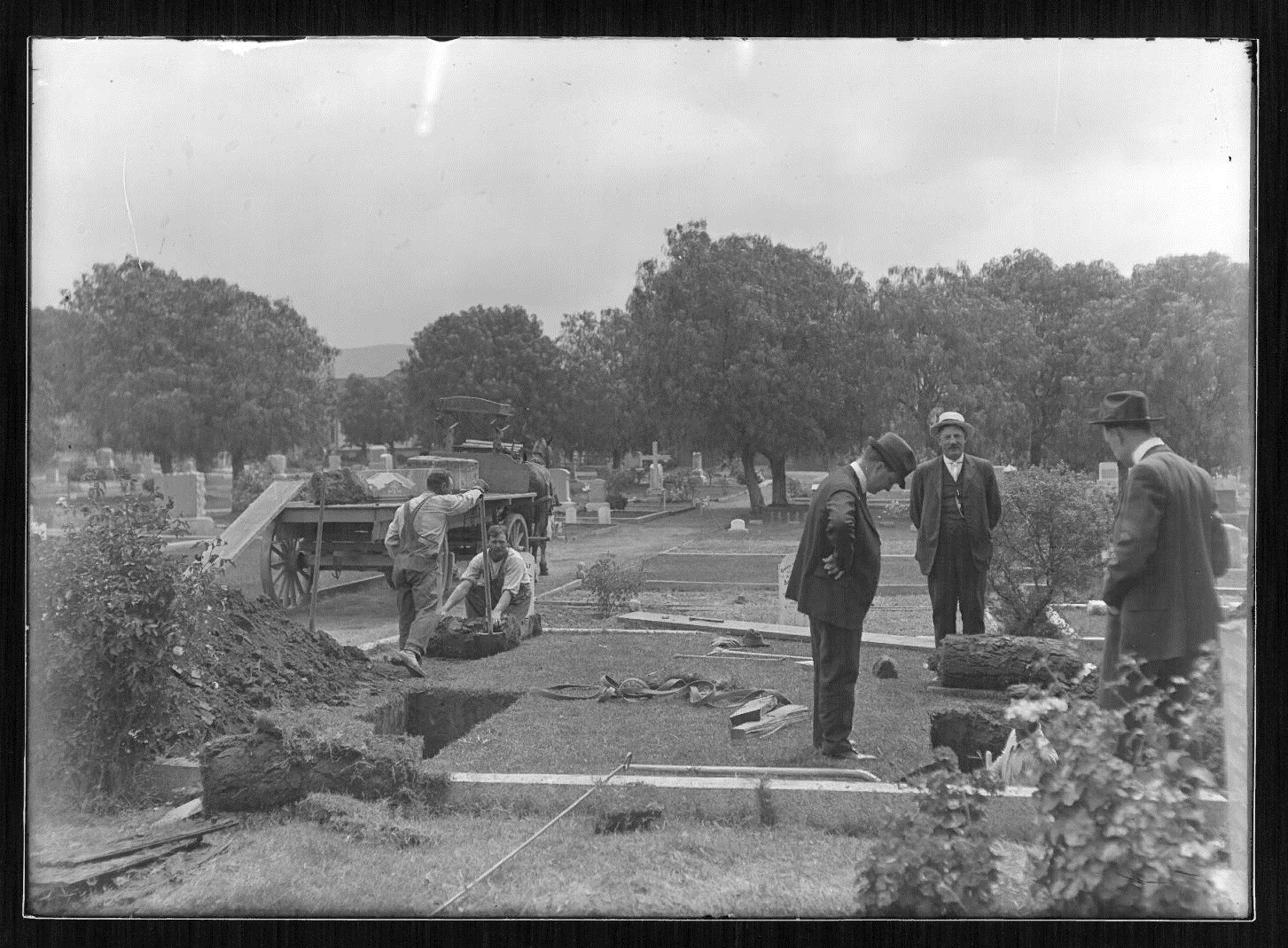 Click here for Cemetery Records
In the early days of Whittier, the two main cemeteries were Broadway and Mount Olive, located next to each other at Broadway and Citrus Ave. Over the years, the cemeteries became neglected and finally abandoned. In the late 1960s, the cemeteries were transformed into Founders Park. Some of bodies were moved to other cemeteries, but many still remain in Founders Park today. The headstones and tombstones which were not claimed were first moved to Pio Pico Mansion and then here to the backyard of the Whittier Museum. Most of the stones were removed from the Museum property in late 2015.
The remaining ten tombstones are exhibited or stored at the Whittier Museum.
See below for additional information.
Mt Olive Cemetery
The Mt Olive cemetery is no longer known by that name but is now part of Founders Memorial Park located between 12100 and 12500 Broadway St Whittier, CA. Citrus Ave divides the park which was opened in 1977. The cemetery was covered with fill dirt and leveled. 365 burials took place here between 1888 and 1957. Most burials were from 1900 to 1937. The Whittier Parks Dept contacted over 2000 next-of-kin regarding this cemetery and the Broadway cemetery just across Citrus St.
Founders' Memorial Park
It was decided that the property of both Mt Olive and Broadway cemeteries be developed into a "quiet park" after having been declared a public nuisance in 1959. The remains of the unclaimed are still there and the names of the deceased are listed on a memorial at the park. The present park walkways follow the original cemetery paths. The park is located at 12199 Broadway.
Broadway (Clark) Cemetery
The Broadway (formerly Clark) cemetery is now a part of Founders Park since it opened in 1977. It contained 926 burials – 68% of them prior to 1910. Relatives were offered the headstones, but most felt their stones were too large, so the Parks Dept stored them. Records from the City of Whittier state that the Broadway Cemetery was opened in 1902. However, many deceased listed were buried on the site prior to 1902. It is unknown exactly when the Broadway Cemetery was opened.
Timeline
1881 – Earliest burial, Matthew A Tyler, 40 yrs, Broadway cemetery
1952 – Letters began to circulate between city employees (city manager & city attorney) resulting in a few city ordinances
1958 – Last burial, Bethana B Williams, 86 yrs, Mt Olive cemetery
1958 – Cemetery declared nuisance, further burials prohibited
1967 – Citizens Cemetery Committee begins to contact relatives of persons interred
1968 – Cemeteries completely cleared of stones and Founders Park is developed, stones are moved to city property adjacent to Pio Pico
1974 – City leases land from State for stones to be stored at Pio Pico
2001 – Stones moved to Whittier Museum
2015 – Because a re-use project could not be found and the stacks of stones were becoming a safety hazard, the majority of the stones were transferred to a private owner and removed from the Museum.
City Council Resolutions
#1197, 7/21/1953 – Prohibited further burials
#1285, 7/19/1955 – Allowed burials of spouses in adjacent plots, to be effective 15 years
#3182, 11/11/1959 – Cemeteries declared nuisance, absolutely no further burials allowed
#4021, 12/19/1967 – Required markers be removed from park no longer than 60 days from date of resolution and also be retained by city for a period of five years before any disposition could be made. During this five year period, family members could claim stones.
Articles
1974 LA Times – City will lease land from Pio Pico for stones to be stored there. Stones were moved from a city owned property (adjacent to Pio Pico), where they had been moved from cemeteries six years prior to article
1974 East Whittier Review – Stones will be moved from city owned property adjacent to Pio Pico where they had been placed in 1968 (6 yrs) to Pio Pico Adobe
Sept 1978 LA Times – "Interest revived in finding uses for old grave markers from Whittier cemeteries"