The Whittier Historical Society owns and operates the Whittier Museum and provides tours of the Historic Bailey House. Our mission is to collect, preserve, and display materials of historical significance to the greater Whittier area. We also produce programs and special exhibits of interest to the Whittier community. The Whittier Museum and Bailey House are open to the public with free admission. We hope you will visit soon!
---
SUBSCRIBE!
Stay up to date on news of upcoming events and exhibits at the Whittier Museum and Bailey House: subscribe to our low-volume e-mail list.
Earthquake Lady Returns!
1:30 pm on Saturday Jan. 20: Learn to take steps to not only survive, but thrive, following the next big earthquake from "The Earthquake Lady," Trish Granholm, seismic specialist project manager for Safe-T-Proof.
Earthquake Exhibit
The Whittier Museum's latest exhibit, "Quake City '87: The 30th Anniversary," opened on Sept. 30, 2017.
Quake t-shirts and a new quake video by John Garside are now available at the gift shop and on-line.

Now on sale: Whittier Calendar
There are just a few 2018 calendars left! You can purchase them at the Museum gift shop and on-line for $5, tax included. The calendar features rare photos of Whittier past gleaned from the Whittier Museum and Public Library archives. All profits will benefit the Bailey House as they raise money to equip the Bailey House with air conditioning.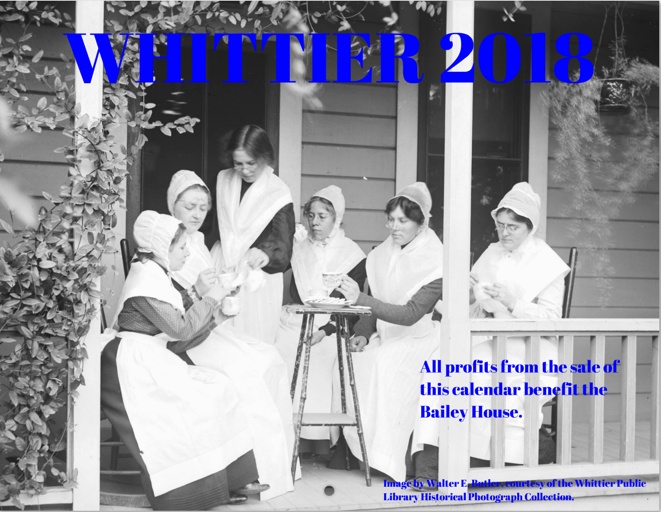 Institutions
City of Whittier
BCM Foundation
Janice Hahn, LA County Supervisor 4th District
Employees Community Fund of Boeing California
National Charity League, Whittier Chapter
Ceres Foundation
Toyota of Whittier
Southern California Edison
Southern California Gas Company
Mennonite Foundation
Individuals & Families
Robert and Virginia (Ginny) Ball
Rev. Tom and Virginia Boles
Bill and Gerry Church
Sylvia Foltz
Bob and Judi Henderson
John and Shirley Hole
Robert and Susan Settlage
Ruth B. Shannon
Ralph and Danelle Thomsen
Family of Monte Wicker

Become a Member of the Whittier Historical Society!
Receive the Museum Gazette Monthly
10% Discount in Gift Shop
Discounts on Events
Access to Museum Library & Archives
Volunteer Opportunities
Site Use Discount
Help Keep the Museum Free
Join Now!