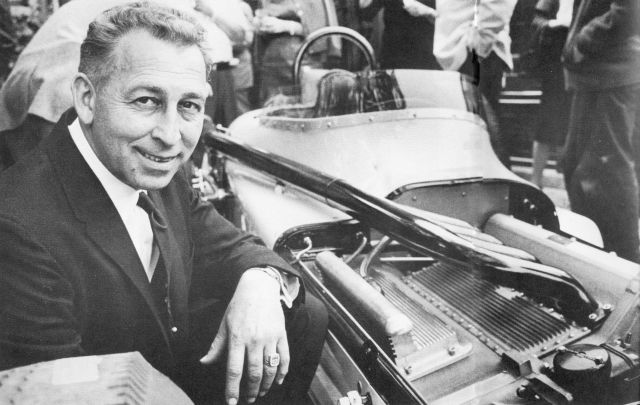 Born in 1914, George Salih was an engineer and foreman for Meyer-Drake, the producer of the Offenhauser engine that would dominate the Indy 500 for three decades. He also built the Belond-AP Special, the winning car of the Indy 500 race in 1957, in the garage of his Whittier home. He lived in Whittier on Milliken Avenue with his wife, Freda, and daughter Nannette. George used to cruise down Whittier Boulevard in East Los Angeles with friends and race cars on the Muroc Dry Lake in the desert. He used his own money to finance the race car but eventually lost his job due to too much time off for trips to Indy. The "Offy" engine, as it was nicknamed, was laid on its side and ran cooler. It gave it a sleek, slated profile and handled very well. The off-center weight of the tilted Offy made it quick on corners. By next year, every other race car copied its style.
George teamed up with A.C. Agajanian and driver Jimmy Bryan in the Italian road race in Monza, Italy. Italian road racing required rear view mirrors, so to qualify, Salih taped a dentist's mirror onto the windshield. Bryan went on to win the 1957 race in Monza and in 1958 in the Indy 500. From 1930-1960, the Meyer-Drake Offenhauser engine won 24 Indy 500 races. No drivers were hurt in the Salih race car. Salih was inducted into the racing Hall of Fame in May 1993.
George Salih died in 1984 at the age of 69, one month before his birthday. Freda Salih died in September 2007. His daughter, Nan, still lives in Southern California and collaborated with the Whittier Museum to present a permanent exhibit on her father, which is currently on display.