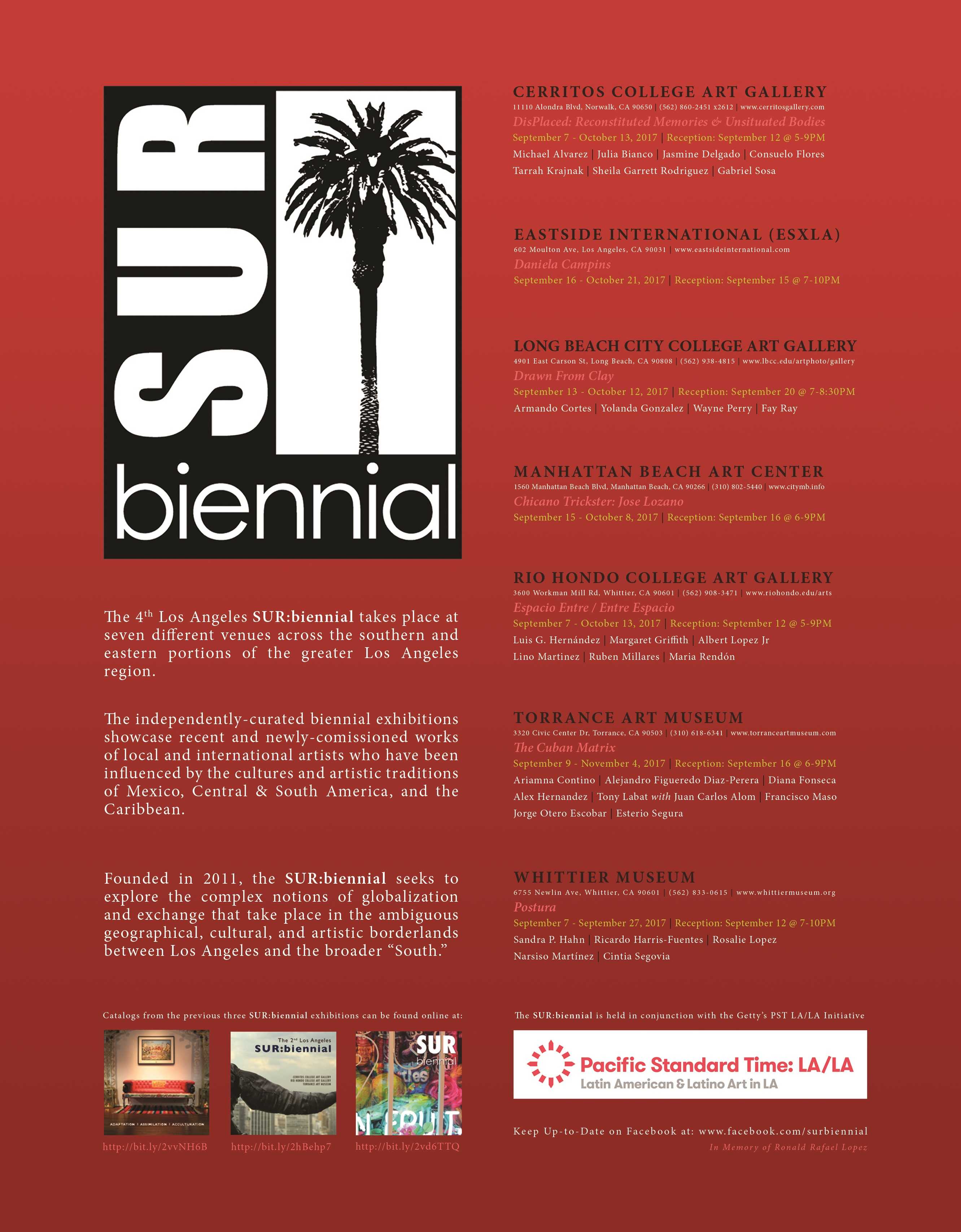 Links
---
The Whittier Museum has been invited to take part in the SUR: biennial in September; a contemporary, fine art exhibit focusing on Latino and Latino-influenced artists. SUR: biennial takes places across several venues all at once: Rio Hondo College Gallery, Cerritos College Gallery, Whittier Museum, Torrance Art Museum, Manhattan Beach Art Center, and Long Beach City College.
This year is especially important as it will be a part of the Getty's multi-venue exhibit, Pacific Standard Time: LA/LA.
The Whittier Museum will exhibit "Postura" curated by Lydia M. Espinoza, board president, featuring artwork by Ricardo Harris-Fuentez, Sandra P. Hahn, Rosalie López, Narsiso Martinez, and Cintia Segovia. Postura means "posture" in Spanish, and takes on a double meaning when translated into English and Spanish. A question that was discovered during the creation of this event is "Qual es tu postura sobre…" which simply means, "what is your position about?" The artworks in this show are in response to this question and take into account themes of identity, livelihood, and the various influences surrounding the artists.
Opening Reception
Opening Reception is Tuesday, Sept. 12 from 7-10p. The reception will also include an artist-led experience at 8p. Free and open to the public.
Artist Discussion Panel
A follow-up artist discussion and exhibit walk-through is scheduled for Saturday, Sept. 23 from 2-4p that will provide an opportunity for artists to discuss their work in relation to "Postura." Free and open to the public.